Zero Energy SIP House Coupeville WA
Location: Coupeville, WA
Project Information
| | |
| --- | --- |
| Project Type: | Residential, > 3,000 sq. ft. |
| Manufacturer: | Premier Building Systems |
| Builder: | Clifton View Homes |
| Design Professional: | Clifton View Homes |
| Year Built: | 2023 |
Performance
| | |
| --- | --- |
| High Performance: | No |
| HERS/EUI Index Score: | 40 |
| ACH50 - Blower Test Results: | |
| kBtu/sq.ft./year: | |
| CO2 lbs./sq.ft./year: | |
Awards/Certifications: DOE Zero Energy Ready Home, ENERGY STAR Certified, EPA Indoor AirPLUS
PROJECT DATA:
Layout: 4 bdrm, 4 bath, 2 fls, 3,289 ft2
Climate: IECC 4C, marine
Completed: January 2023
Category: Custom for Buyer
MODELED PERFORMANCE DATA:
HERS Index: without PV 40
Annual Energy Costs: without PV $1,050
Annual Energy Cost Savings: (vs typical new homes) without PV $1,200
Annual Energy Savings: without PV 13,150 kWh
Savings in the First 30 Years: without PV $49,750
KEY FEATURES:
Walls: SIP walls, R-28 total: 6.5" graphite EPS, draining house wrap, fiber cement siding.
Roof: SIPs gable roof: 10.25" GPS SIPS, self-adhered underlayment on low-sloped 2/12 roof and valleys, synthetic underlayment on 8/12 roof. Standing-seam steel roofing for 2/12 roof areas and all future solar panel areas, 50-year composition shingles for all 8/12 pitch roof areas. Steel and single-ply PVC membrane over flat roof deck sections.
Attic: Unvented cathedral ceilings. R-46 SIPs; small utility attic for mechanical equipment.
Foundation: Slab on grade with 4" R-20 XPS on interior of stem wall and under full slab.
Windows: Triple-pane windows with U=0.16 and SHGC=0.34, vinyl-framed, argon-filled, low-e, interior motorized blinds.
Air Sealing: 0.52 ACH50; All SIP construction, seams caulked and taped.
Ventilation: Outside air ducts bring in fresh filtered air when range fan is running for spot or whole house ventilation. Also timered to open on summer nights for ventilation cooling.
HVAC: Air-to-water heat pump, 3.5 COP, for radiant heat and hot water. Air-to-air ductless minisplit for upstairs heat and all AC.
Hot Water: Air-to-water heat pump, 80-gal. tank, for domestic and radiant floor heat. Compact plumbing design, timered recirculation pump.
Lighting and Appliances: LED lighting; all-electric ENERGY STAR appliances.
Solar: None.
Energy Management System: Night vent cooling; passive solar design. Homes designed to run with no extra electronics.
Other: All systems energy modeled. PV sized to power home + 1 electric car. EV charger.
DOE project link: Zero Energy SIP House Penn Cove Couperville WA
To explore other Zero Energy Ready Homes, visit the Department of Energy's Tour of Zero page.
Documents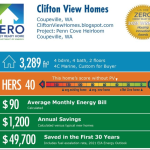 Affiliated Members
---