SIP Woodworking Shop Winthrop WA
Location: Winthrop, WA
Project Information
| | |
| --- | --- |
| Project Type: | Renovations |
| Manufacturer: | Premier Building Systems |
| Builder: | Cougar Creek Timber Frame |
| Design Professional: | Cougar Creek Timber Frame |
| Year Built: | 2021 |
Performance
| | |
| --- | --- |
| High Performance: | No |
| HERS/EUI Index Score: | |
| ACH50 - Blower Test Results: | |
| kBtu/sq.ft./year: | |
| CO2 lbs./sq.ft./year: | |
Awards/Certifications: Building Excellence Awards
BEA: 2022 Renovations Runner Up
Building use:
Woodworking Shop
How did SIP construction help you get this job?
In my conversation with the owner discussing his new shop building, he asked what I thought about his plans from his architect. My question to him was to discover what was important to him. He commented that being warm in the winter and cool in the summer was at the top of list. After showing him my office sample of SIP's for walls and roof along with written evidence. He was sold.
He, then wanted me to draw up the new plans utilizing the SIP's with engineering to submit for a permit.
SIP wall thickness: 6.5" GPS
SIP roof thickness: 10.25" GPS
Benefits of using SIPs on this project. Did SIPs help save time, labor, construction costs, or energy?
1. Many comments from the crew how quickly the walls and roof went up.
2. The workers really liked the precision to install the panels.
3. Contractor noted that the building erected in half the time in contrast to a stick frame.
4. Contractor also stated the cost of construction was less than stick.
5. Home owner voiced a dramatic saving cost how it took very little energy to heat.
Any innovative design elements:
To allow for mounting lumber rack storage to the walls, 6 x 6 lumber was placed in panels 4' on center.
I-Joist were placed in the roof system 4' on center to carry any amount of snow load.
Insulbeam headers were installed over the garage door openings.
HVAC:
Cooling: Installed a Minisplit for cooling
Heating: Wood Burning Stove

Additional energy-efficient products or design features:
Installation of 2" foam boards below the slab
LED Lighting throughout
Additional comments:
Quote from PBS "While visiting the owner in the shop this winter, his wife stated that if anyone had questions about the SIP's, and wanted to see them, they would be glad to show them and tell them how much they love the SIP's".
Documents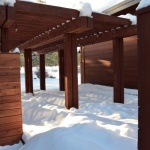 Affiliated Members
---