SIP Sunflower House ADU Minneapolis MN
Location: Saint Paul, MN
Project Information
| | |
| --- | --- |
| Project Type: | Residential, Tiny House < 900 sq. ft. |
| Manufacturer: | Energy Panel Structures |
| Builder: | UberBuilt |
| Design Professional: | Christopher Strom Architects |
| Year Built: | 2022 |
Performance
| | |
| --- | --- |
| High Performance: | No |
| HERS/EUI Index Score: | |
| ACH50 - Blower Test Results: | 1.71 |
| kBtu/sq.ft./year: | |
| CO2 lbs./sq.ft./year: | |
Awards/Certifications: Building Excellence Awards
BEA: 2022 Runner-Up Classic Homes Under 900 sq. ft.
This accessory dwelling unit is designed to be rented by friends and family to create a micro-community on the lot and allow for co-living.
SIP Construction was desired by the owner and her son, an architecture student, for its sustainable features. They were especially drawn to the airtight, continuous insulation, and the SIPs ability to limit construction waste. The noise resistance provided by SIPs was an additional benefit because of the ADU's urban location.
SIPs saved substantial time on this project because the "pieces" of the project could snap together quickly on site, which resulted in a lower labor cost. The airtight, continuous insulation allows for significant energy savings.
ADU is located in walkable, urban neighborhood which allows for more efficient living and transportation.
SIP wall thickness: 6.25"
SIP roof thickness: 12.5"
Blower door test: 1.71 ACH50
The completed ADU is named Sunflower for its cheery yellow exterior. Although a bright color, it is surprisingly well hidden from the street view because of its location tucked behind the main home. The playful colors continue inside, including the green kitchen cabinetry and bright shower tile.
A key feature of Sunflower is its lack of garage, which is typically located on the 1st level of an ADU. By forgoing a garage, both levels could be dedicated to living space. The first floor has the entertaining spaces, including the kitchen and living room. Upstairs is the bedroom, bathroom, and laundry.
In addition to SIPs, this small home utilizes multiple sustainable features including ERVs, exposed concrete flooring for thermal mass, and all-electric appliances and HVAC (meaning no natural gas is used).
The front entry overhang, used to create a welcoming and protected front porch, is supported by a cantilevered LVL. In the second level, an exposed glulam beam is used to support the roof SIPs while adding warmth to interior.
HVAC system:
2 Mitsubishi MSZ-EF Mini-splits: Wall mounted units for heating & cooling
Broan ERV70T ERV's for ADU fresh air ventilation system. HVI certified, high efficiency, with filtration.
Radiant Floor Heating (Hot Water) in 1st floor exposed concrete flooring
Electric Boiler with minimum 90% AFUE efficiency rating (no gas in home)
Energy-saving materials:
Marvin Elevate Windows & Exterior Doors: 0.27 U Value
Energy-efficient products:
No gas used in home. Instead of a gas range, an induction range used. An electric boiler is used instead of gas.
The exposed concrete on the 1st floor serves as thermal mass to passively warm the home in cold Minnesotan
winters.
Many windows and sky lights are used to bring in additional natural lighting.
Solar panels are not yet installed, but soon will be. The roof and the structure were designed to
accommodate the panels.
All project photography to Alyssa Lee Photography.
Documents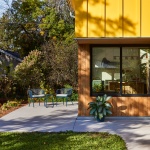 Affiliated Members
---