SIP Safe Haven House Bend OR
Location: Bend, OR
Project Information
| | |
| --- | --- |
| Project Type: | Residential, > 3,000 sq. ft. |
| Manufacturer: | Premier Building Systems |
| Builder: | Winsome Construction |
| Design Professional: | The Shelter Studio |
| Year Built: | 2022 |
Performance
| | |
| --- | --- |
| High Performance: | No |
| HERS/EUI Index Score: | |
| ACH50 - Blower Test Results: | 2.83 |
| kBtu/sq.ft./year: | |
| CO2 lbs./sq.ft./year: | |
This is a single family home for a retired couple. Built to last, it will provide a safe haven for kids and grandkids to gather. With features such as an infrared sauna, standing bathtub, electric master bedroom fireplace, and large covered porch, this home will provide a cozy sanctuary for years to come. Our clients approached us with a home design incorporating SIPS wall system and ultimately chose to work with us based on our experience and knowledge of the product combined with other alternative construction methods.
Our costs remained low as we avoided huge increases during the largest increase in lumber prices in American history due to supply chain issues during the COVID-19 pandemic.
This project was designed with a large, conditioned crawl space constructed with Insulated concrete form blocks allowing the mechanical equipment and ducting to be located underneath the home but remain within the conditioned envelope. The SIPS with GPS exterior wall assembly provided by Premier complimented the intention of the home by providing excellent air sealing and insulation qualities as well as eliminating thermal. A typical roof truss with a raised heel for extra insulation capped off the design.
SIP Wall thickness: 5.5" GPS core
Certificates: Earth Advantage Silver
Blower door test results: 2.83 ACH50
HVAC system: Forced air. American Standard 3 1/2 ton air handler with 3 1/2 ton heat pump 15 SEER 9.5 HSPF. 15,000 BTU Mitsubishi Hyperheat in bonus space above garage.
Energy-saving materials: The foundation was constructed using 6" and 8" Fox Blocks ICF forms allowing us to condition the crawl space and provide a location for mechanical equipment and ducting within the envelope of the home.
Energy-efficient products: High efficiency electric heat pump water heater for potable hot water heating and Mitsubishi .
Sustainable materials: Euroshield recycled rubber roofing. Euroshield® formula is recycled tire rubber comprising approximately 70% of the material. The rest is a proprietary blend of other materials that add to its industry-leading durability and longevity, for a total of 95% recycled content used in the making of the finished product.
Documents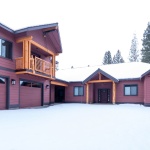 Affiliated Members
---