SIP House Sauk Rapids MN
Location: Sauk Rapids, MN
Project Information
| | |
| --- | --- |
| Project Type: | Residential, > 3,000 sq. ft. |
| Manufacturer: | Extreme Panel Technologies |
| Builder: | Traeger Industries of MN Inc |
| Design Professional: | Virtual Architec |
| Year Built: | 2019 |
Performance
| | |
| --- | --- |
| High Performance: | No |
| HERS/EUI Index Score: | |
| ACH50 - Blower Test Results: | |
| kBtu/sq.ft./year: | |
| CO2 lbs./sq.ft./year: | |
Describe the end use of the building:
Single Family Home of 5.
How did SIP construction help you get this job?
McGeary's had been researching SIPs for many years. They came across a booth I was working and I ended up selling them on using Extreme Panels. We also had a builder that was near by that exclusively uses Extreme and he also helped on finalizing this sale.
SIP wall thickness and core material:
6 1/2"
SIP roof thickness and core material:
12 1/4"
Describe the benefits of using SIPs on this project. Did SIPs help save time, labor, construction costs, or energy?
Time savings was really big because they had sold their house and were currently renting. They wanted to build a larger home for their growing family. Also, during discussions of energy costs he found out that sizing of HVAC is very important. It helps save cost of the overall project by cutting BTU Loads.
Describe the HVAC system used on the project:
Radiant - In floor heat, Mini-Splits, Panasonic Spot ERV's for Air Exchange. Panasonic Bath Fans - with Humidity Sensors.
Were any solar panels installed on the project? If so, indicate the size of the system (judged only for High Performance Category):
Still debating on if they want to add them.
Documents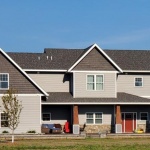 Affiliated Members
---