SIP Fish Hatchery Building Spearfish SD
Location: Spearfish, SD
Project Information
| | |
| --- | --- |
| Project Type: | Agricultural |
| Manufacturer: | Enercept |
| Builder: | RCS Construction, Inc. |
| Design Professional: | Stanley Consultants |
| Year Built: | 2022 |
Performance
| | |
| --- | --- |
| High Performance: | No |
| HERS/EUI Index Score: | |
| ACH50 - Blower Test Results: | |
| kBtu/sq.ft./year: | |
| CO2 lbs./sq.ft./year: | |
Awards/Certifications: Building Excellence Awards
BEA: 2022 Winner Classic Agriculture
The DC Booth Fish Hatchery Shop Building is used for storage, has a maintenance/wood shop area, and is a garage for the fish transport truck.
SIPs were specified by the architect. The builder, who is experienced in SIP construction won the bid
Wall thickness: 7 3/8" EPS Core
Roof thickness: 11 7/8" EPS Core
The builders had worked with SIPs on previous projects. They were familiar with the process and felt that the installation was simple. The job site was relatively small, with a narrow entrance. This made moving the large (jumbo) SIP panels somewhat cumbersome. Even with this challenge, the builder was able to realize the time benefit of using SIPs.
The 8" SIP walls and 12" SIP roof enclose a pre-engineered steel frame. As per local building code, the building was engineered to meet IBC 2018 building code.
The HVAC system is a combination of Natural Gas fired unit heaters (three Reznor units), and electrical unit heaters in the interior rooms.
The shop building as three insulated steel overhead doors, and four insulated steel walkdoors with insulated glass.
The building uses 100% LED lighting.
The entire hatchery site is listed on the National Register of Historic Places. Ponds, rock walls, water systems, and buildings contribute to the site's historical significance. Care was taken to preserve the wooded area and to keep the job site footprint small.
Established in 1896, D.C. Booth Historic National Fish Hatchery and Archives, formerly Spearfish National Fish Hatchery, is one of the oldest operating hatcheries in the country dedicated to fish culture and resource management. In the early days of the fish hatchery, fish were transported by railcar or boat to their final destination. Modern times allow the fish to be transported by a specialized fish truck. None of the existing buildings were large enough to accommodate the fish truck. The shop building has a large bay explicitly
designed for the fish truck. With the new space, they could utilize their existing shop/storage building for more practical uses at the
Fish Hatchery.
Documents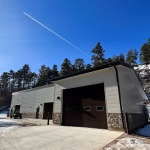 Affiliated Members
---