San Juan SIP Office and Rental Space Aztec NM
Location: Aztec, NM
Project Information
| | |
| --- | --- |
| Project Type: | Commercial, Office |
| Manufacturer: | Premier Building Systems |
| Builder: | Winters Construction LLC |
| Design Professional: | Formative Architecture |
| Year Built: | 2021 |
Performance
| | |
| --- | --- |
| High Performance: | No |
| HERS/EUI Index Score: | |
| ACH50 - Blower Test Results: | |
| kBtu/sq.ft./year: | |
| CO2 lbs./sq.ft./year: | |
Building use:
Office and rental space for San Juan Soil & Water Conservation District.
Perform conservation training and education for land owners, State, County, Farmers, Ranchers, and Youth
SIP benefits for this job:
Winters Construction was able to meet the clients needs and budget by changing the construction method from conventional framing to SIPS Panels as it cut the on-site labor for framing dramatically.
We were able to cut the time frame from start of assembly to Dry-in by 5 weeks
SIP wall thickness: 5.5" EPS plus 7/16" ZB Top and Bottom Skin
SIP roof thickness: 7.25" EPS plus 7/16" OSB Top and Bottom Skin
Benefits of using SIPs on this project. Did SIPs help save time, labor, construction costs, or energy?
SIPS saved 5 weeks of on-site construction framing labor, which was able to get the project in budget. Interior drywall installation was more efficient which was a unforeseen savings.
Structurally the Sips panels saved substantial time in cantilever framing.
The building is sufficiently more energy efficient than conventional framing.
Innovative design elements or structural engineering involved:
Our design had a open non supported corner window along with cantilever roofs that did not require any additional beams or framing structures.
HVAC:
Forced Air RTU's
Additional energy-saving materials used in the building envelope:
Install continuous 1.5" EPS over Sips panels for exterior EFIS system R-value 3.6
Used Low E glazing U-value 2.9
Installed Liquid vapor Barrier
Additional energy-efficient products or design features:
Installed On Demand Hot Water Heater
Installed LED Lighting with controls
Extended roof overhangs for sun blocks
Installed rain Water recovery System

Additional sustainable materials or design features not listed above, such as recycled materials, low-VOC finishes, landscaping, etc.:
Landscaping was accomplished with native grass seeding, natural rocks, crushed gravel, and water retention ponds.
Additional comments:
This project was only able to be brought into budget through value engineering. The first 3/4 of the over run was easy to accomplish. The SIPS Panels were able to get us into budget.
Documents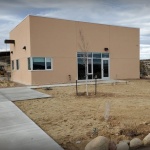 Affiliated Members
---