Cold Climate SIP Restaurant Alaskan Renovation Big Lake AK
Location: Wasilla, AK
Project Information
| | |
| --- | --- |
| Project Type: | Renovations |
| Manufacturer: | Premier Building Systems |
| Builder: | R & B Alaska |
| Design Professional: | Maple Brook Engineering |
| Year Built: | 2021 |
Performance
| | |
| --- | --- |
| High Performance: | No |
| HERS/EUI Index Score: | |
| ACH50 - Blower Test Results: | |
| kBtu/sq.ft./year: | |
| CO2 lbs./sq.ft./year: | |
Awards/Certifications: Building Excellence Awards
Building use:
This area is used for a restaurant/pub
SIP benefits for this job:
The building went up very fast and does a great to sound proof the building.
SIP wall thickness: 6"
SIP roof thickness: na
Benefits of using SIPs on this project. Did SIPs help save time, labor, construction costs, or energy?
This building is in Big Lake Alaska and it is very cold in the winter, SIPs are so very good at keeping the cold out and the heat in. It went up fast and this was a super saving on labor and construction cost.
Innovative design elements or structural engineering involved:
This is a fairly basic build, with no real unique design elements. The goal of the build was to ensure a tight building envelope - keeping the warmth in and cold out.
HVAC:
In floor radiant heat
Energy-saving materials used in the building envelope other than SIPs:
The roof has 20 inch of blown in insulation, artic entree on the doors and triple pane windows.
Additional sustainable materials or design features:
All the lights are LED recessed. On demand hot water heater.
Additional comments:
SIP Homes have lower heating costs in Alaska's cold climate. SIP-made buildings are vastly more energy-efficient, strong, quiet, and are less drafty than other building methods like stud framing with fiberglass batt insulation. ... These attributes are built right into the Premier SIPs. While the structure seems rugged and doesn't necessarily photograph well, its the interior content and air tightness that we were most interested.
Documents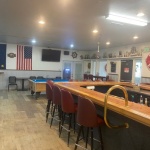 Affiliated Members
---