Bridger SIP Ranch Belgrade MT
Location: Belgrade, MT
Project Information
| | |
| --- | --- |
| Project Type: | Residential, > 3,000 sq. ft. |
| Manufacturer: | Premier Building Systems |
| Builder: | joe Rob Custom Homes |
| Design Professional: | FORMation Architecture |
| Year Built: | 2016 |
Performance
| | |
| --- | --- |
| High Performance: | No |
| HERS/EUI Index Score: | |
| ACH50 - Blower Test Results: | |
| kBtu/sq.ft./year: | |
| CO2 lbs./sq.ft./year: | |
The ability to emphasize the quality of the envelope and the speed of construction provided a sense of confidence in the early meetings with the clients. The architect was very satisfied with the support received from the suppliers and SIP engineers which added efficiency to the architect's design schedule.
SIP wall thickness and core material: 6" EPS SIP Walls
SIP roof thickness and core material: 10" EPS SIP Roof
Almost no waste of panel material because of factory installed lumber package and custom cut panels. This helped save time, money and effort. Fast install time despite weather challenges and holidays.
The design was devised to order a sequence of spaces that culminate at an amazing view of the Bridger Mountain Range.
Additional features to drive down costs and energy consumption: LED lighting, Solar tubes, Fully insulated crawl space, Insulation under slab areas, Energy-efficient fiberglass windows, Day lighting, Radiant heating throughout home, Ground source heat pumps, and Building orientation to take advantage of solar/shade conditions.
Featuring beautiful trusses and timber work, "The use of Premier Panels is an easy way to have unlimited expression of creativity throughout the design process. Our clients and contractors love the fact that much of the build process takes place at the SIPs factory helping onsite assembly and 'enclosure' to be completed quickly. The incredible customer service that Premier SIPs provides is what sets them apart in this industry. The sales and engineering crew at Premier are important members of our team - helping us to provide unique design, quality, energy-efficient and cost-effective construction for our clients." Craig Bergstedt, FORMation Architecture
Documents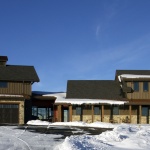 Affiliated Members
---