SIP Affordable Housing Warden WA
Location: Warden, WA
Project Information
| | |
| --- | --- |
| Project Type: | Residential, Affordable Housing |
| Manufacturer: | Premier Building Systems |
| Builder: | |
| Design Professional: | |
| Year Built: | 2020 |
Performance
| | |
| --- | --- |
| High Performance: | No |
| HERS/EUI Index Score: | |
| ACH50 - Blower Test Results: | |
| kBtu/sq.ft./year: | |
| CO2 lbs./sq.ft./year: | |
La Amistad Apartments, located in Warden, WA, was designed to provide low-income agricultural workers with affordable family housing in Grant County. The complex contains 30 townhome-style rental units that range from 2 to 4 bedrooms.
This project was sponsored by Catholic Charities Housing Services (CCHS) Diocese of Yakima.
An important goal of CCHS is to "improve project buildings through increased energy efficiency, longer material life cycles, prudent water management and improved indoor air quality."
R-Control SIPs are the cornerstone of CCHS's approach to choosing materials for high-quality, energy-efficient housing.
La Amistad is Spanish for "friendship," so it's fitting the development surrounds a communal green space.
Within this central area, there's a large community center that provides educational classes and allows for informal gatherings that encourage community-building among the residents.
La Amistad was CCHS' first all-R-Control project, but it was inspired by a project in Mabton, WA, two years earlier. For that project, SIPs were used for only two buildings.
When the project consultant pointed out to CCHS' new development manager, John Probst, that the Mabton SIPs buildings' utility bills were 50% less than those of the conventionally constructed buildings, the two decided to investigate.
Mr. Probst tells the story of that investigation, and CCHS' subsequent experiences with Big Sky, in a testimonial letter he wrote to us
For the Warden family housing project, Big Sky's sales representative was on-site for the first three days of SIPs construction.
He worked hands-on with the framing crew and electricians, teaching them the most efficient techniques to use when building with SIPs.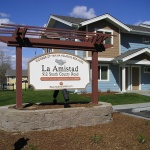 Affiliated Members
---