Holsopple SIP Home Shop Adrian MI
Location: Adrian, MI
Project Information
| | |
| --- | --- |
| Project Type: | Residential, > 3,000 sq. ft. |
| Manufacturer: | Insulspan |
| Builder: | Kendall Contracting |
| Design Professional: | Kendall Contracting |
| Year Built: | 2019 |
Performance
| | |
| --- | --- |
| High Performance: | No |
| HERS/EUI Index Score: | |
| ACH50 - Blower Test Results: | |
| kBtu/sq.ft./year: | |
| CO2 lbs./sq.ft./year: | |
The owner believes the floor plan was improved because of the SIP's ability to clear span and open up the living area. They were able to save time and having experienced labor was not as critical to have because the owner-builder could give instructions as to how the panels went together and oversee as they were put them together. While the SIPs did not lend themselves to cost savings (SIPs made some of the trades a little more challenging) there is no question the energy savings will be there in the future, especially considering the owner has already experienced them.
This home is designed with a central, 3,600-square-foot garage that separates the two residences creating privacy for both family units. The owner-builder's residence has a walkout basement with a daylight wall which is the perfect place for the kids' bedrooms. The residence has in-floor heat that works very well in conjunction with the SIPs' energy efficiency to keep both of the spaces very comfortable.
Because of the structural integrity of the SIPs, the engineered beams were able to be left exposed and then stained to dress up the interior space. The owner used radiant in-floor heat for the Mother-in-Law unit (24' x 48'), which is on a slab. It was the same case for the 60x60 finished garage, and the basement of the owner's (36' x 48') unit. The radiant in-floor is maintained by a Navien tankless hot water heater which is natural gas. A 2nd Navien is also in use to help heat the domestic water. There is a forced air furnace that is set up to heat the main floor of the owner's (36' x 48') unit and cool both levels.
Documents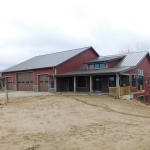 Affiliated Members
---